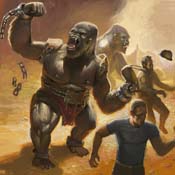 Statistics
Faction:
African Warlords
Class:
Infantry
Units:
1
Defense:
Heavy Organic
Sight:
45
Health:
125
Mobility:
4.5
Damage:
100-150
Range:
12
Purchase
Cost:

= 1,400



= 170
Deploy
Cost:

x3



x0



x0
Abilities
| | |
| --- | --- |
| Weapon | Anti-Armour |
| 1st ability | Tear |
| 2nd ability | Pack Bonus |
The armies of Africa have always seemed exotic and foreign to European and North American explorers. Many fictional novels were written based on traditional stories of animals fighting against men. When the armies of the United Republic arrived at the Suez Canal during the Suez Canal crisis and engaged the raiders, they were in complete shock at what they had seen.
Field command was flooded with frantic reports of large gorillas assaulting republic front lines. At first , general Bruce lee couldn't believe the reports. gorillas, twice the size of a man attacking alongside the Africans? Impossible. Although the republic won the battle, they revealed to the world two truths – the African Warlords are a formidable foe capable of fighting toe to toe with the best the world has to offer and the second truth is that Africa fights with them.
During the battle, large packs of male gorillas were seen charging republican infantry, flinging men and tearing vehicles apart. Although victorious, many were wounded by the frenzy of the beasts. It has been estimated that the war beasts were responsible for some 37% of all casualties during the campaign.
Third tab content goes here. Replace this with your own content.