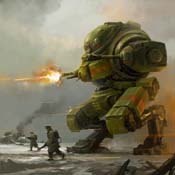 Statistics
Faction:
Soviet Union
Class:
Vehicle
Units:
1
Defense:
Heavy Armor
Sight:
30
Health:
450
Mobility:
9
Damage:
200-250/175-225
Range:
15-45/15-60
Purchase
Cost:

= 12000



= 1800
Deploy
Cost:

x0



x6



x0
Abilities
| | |
| --- | --- |
| Weapon | Anti-pers/Anti-Tank |
| 1st ability | Shrapnel Blast |
| 2nd ability | Anti Tank Cannon |
A Hammer is a highly technological combat walker of intermediate size used by the Red army as a heavy infantry support for their soldiers and as a anti-tank weapon platform. This engine of war is powered by 4 diesel engines and has a mounted mortar to provide artilery cover for advancing infantry.
When first introduced to the battlefields of Europe, the Hammer was unbeatable. Armies were shattered by armored regiments of these walkers and for a long time the European armies had no appropriate responce to the high firing rate and attack power of the walker.
Armored with 10cm thick depleted uranium armor, the walker could withstand almost all attacks and continue inexorably towards its goal.
Special Abilities
1. Weapon: [ Flak Throwers]: Short range of canister shots
Type: Area Attack
Damage: Strong
Radius: Small
Range: short
2. Weapon: [Siege Mortar]:  : Launches large highly explosive shells
Type: Area Attack
Damage: Strong
Radius: small
Range: Short