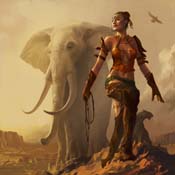 Statistics
Faction:
African Warlords
Class:
Infantry
Units:
1
Defense:
Light Organic
Sight:
60
Health:
75
Mobility:
5.5
Damage:
NONE
Range:
5/5
Purchase
Cost:

= 3000



= 360
Deploy
Cost:

x1



x0



x3
Abilities
| | |
| --- | --- |
| Weapon | Enrage |
| 1st ability | Drive |
| 2nd ability | Call of the wilds |
Shamanism has always been part of life in the tribes of Africa. Each tribe had a shaman, a representative that spoke with the spirits of the wild and the spirits of the ancestors for guidance. When the African Warlords went to war against their colonial oppressors, many young shamans joined the fight. They began calling themselves beast masters.
The fulfill a particular role in the army - using knowledge that has been passed down from generations, the Beast masters communicate with the animals with sense, touch and energy. Just before the battle the beast master will stir the War Beasts in the army into a frenzy and continue directing them in the fight.
The Beast master is treated with great reverie as they represent the beasts in the council of men and men in the council of beasts.